Week beginning Monday 4th January.
This week we have been talking lots about the new year and learning about different tradition from around the world. We have learnt that in Spain they eat 12 grapes at 12 o'clock to bring 12 good months for the year, in Romania they dress up as bears and dance away any evil spirits and in Denmark they smash plates to bring good luck. We've learnt many others too... why not ask me about them?
Look at Jack's wonderful home learning new year goals work:
We have been practicing our number recognition up to 14 and learning all about the number 15, with Tia Ten and Fiona Five.
Week beginning Monday 11th January
This week we are beginning our new class topic on 'All things gross', with lots of exciting and revolting stories along the way. The Disgusting Sandwich is our first story this week, look at some of our work and what we have been up to, including our home learners, there's been some brilliant work with addition using teen numbers and some very creative sandwich fillings! Well done everyone.  In school we have been learning all about the number 16 and even had a go at making our own sandwiches, they weren't disgusting though.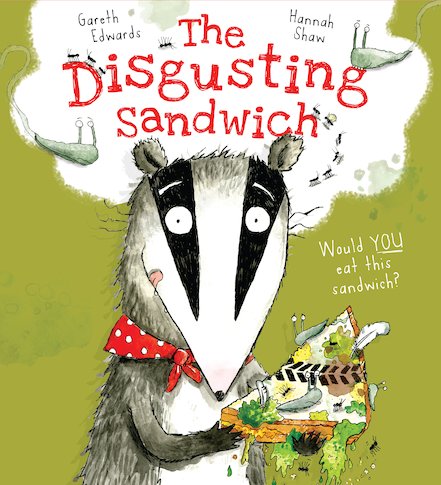 Week beginning Monday 18th January
This week our story has been Smelly Louie by Catherine Rayner and there has been some fabulous home learning writing going on. Well done all! In our bubble in school there has also been some lovely writing and new story suggestions such as Louie loving the smell of "green turkey".... eeewww!! There has also been some fabulous pattern making dances uploaded to Seesaw this week... keep up the great work everybody.
 Week beginning Monday 25th January
First of all I hope everybody enjoyed the snow day on Monday, I've seen some wonderful snow creatures! This week we have been learning all about worms and it has been lovely to see you all getting so involved with your home learning. Keep up the great work everyone! in class we have also been doing some brilliant algorithm work using the beebots.
Week beginning Monday 1st February
This week both with our home learning and in school we have been reading the story Spider Sandwiches... ewww. I've seen some brilliant home learning going on, on both Purple Mash and your Seesaw accounts. Keep up the good work everyone! We have been learning all about the number 19 and becoming number 19 experts and looking at shape in our maths lessons. We also thought about our feelings and expressing ourselves using the story The Colour Monster to support Place 2 Be's children's mental health week. I can't wait to see your own feeling monsters when we all get back in school. Take a look at some of the ones we have been creating in school, thinking carefully about why we chose those colours and how they reflect our feelings.
 Week Beginning Monday 8th February 
This week we have been learning all about Valentines and learning the story Hug Time. It is a beautiful story about a very loving little Kitten names Jules who wants to give the whole world a hug and the children have really enjoyed it. We've been using clay this week to, making some surprise gifts for our loves ones. Home learners have been doing a wonderful job to and it has been lovely to say hello (on the phone) to most of you this past week... now enjoy half term and keep safe. <3